(0)
Bouquets and flowers
We are a florist in the city of Barcelona (Spain), we offer a wide variety of bouquets and flower arrangements for all celebrations. In our Barcelona flower shop , we make the most beautiful bouquets of flowers. Deliver flowers to Barcelona.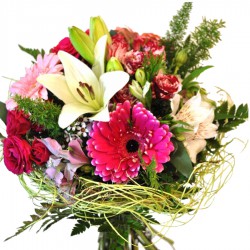 Price
23.14 €
Delivery to Barcelona, this bouquet of flowers, is made from lilium, gerberas and other wild...

Price
33.06 €
Beautiful bouquet of wild flowers, mostly...

Price
34.71 €
This bouquet is essentially made from proteas and other exotic flowers and buds. So, it becomes and special and special bunch.

Price
28.93 €
Cheerful bouquet of sunflowers. Delivery